02.04.2016 12:08
02.04.2016 12:04
02.04.2016 11:34
WLtoys Vortex A979

Originaly we got a Nikko Vaporizr Nano car. This car is a fun to drive with its slip driving and ability to drive in the watter, but its construction is simply terrible - hardplastic (inclu. wheels), no spare parts, on/off remote, direct transmission of motor to wheels - it got broken within 3 month. For the same price of big Vaporizr you can have a WLtoys Vortex A979 or similar, that is a real RC. Here is a list of services we had to do on this otherwise very good first time car.

First thing that got somewhat wrong was original battery. It definitely can not withstand the car consumption and gets fatten soon. If you want to drive longer you have to buy another one. So we bought the replacement, that is much better. Here is the original "blue" battery: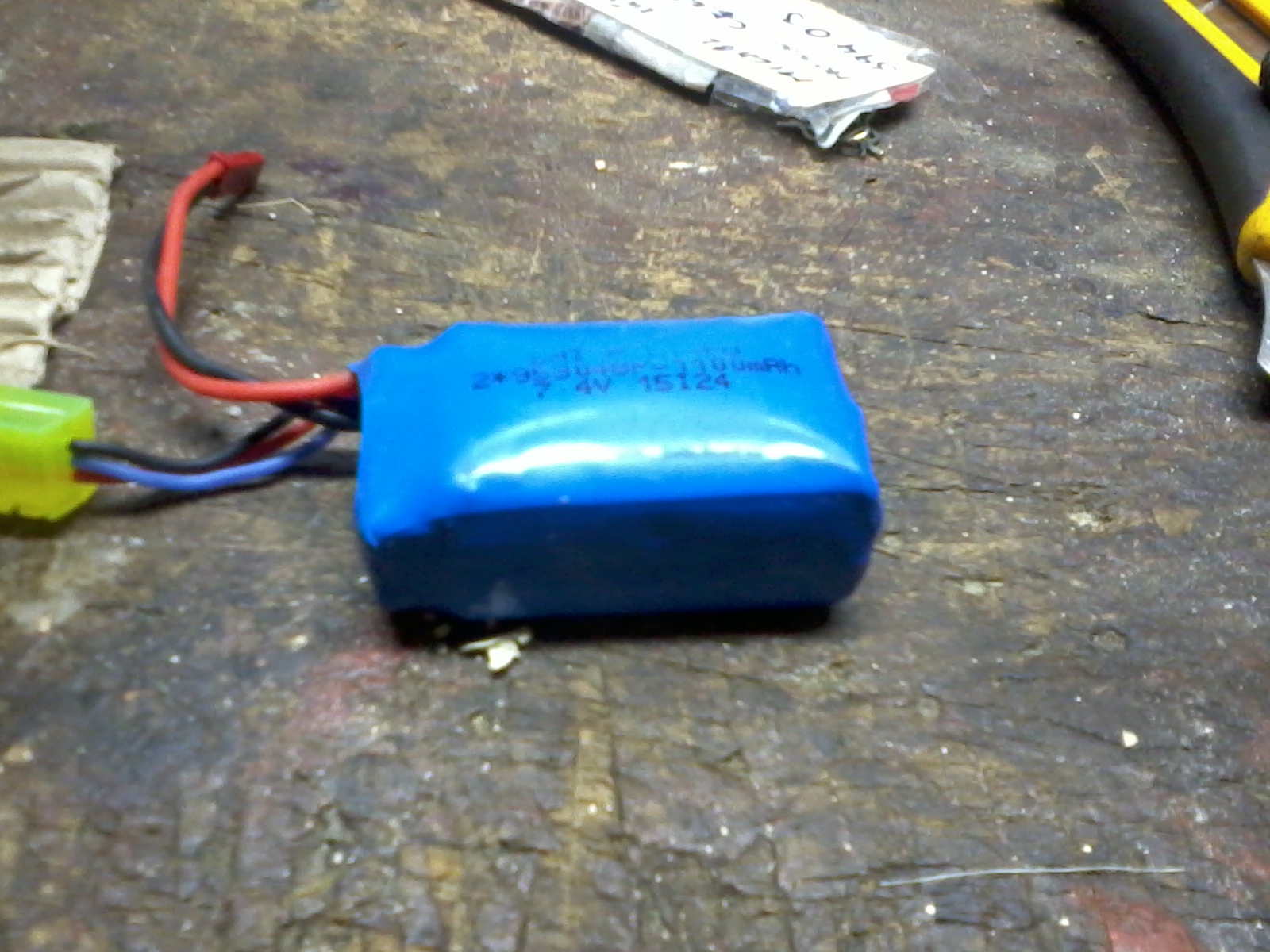 Then we tested the waterproofnes. Well it is not to be put in the watter, but definitely can drive in wet conditions or snow. It is better to use silicon oil and cover the inside.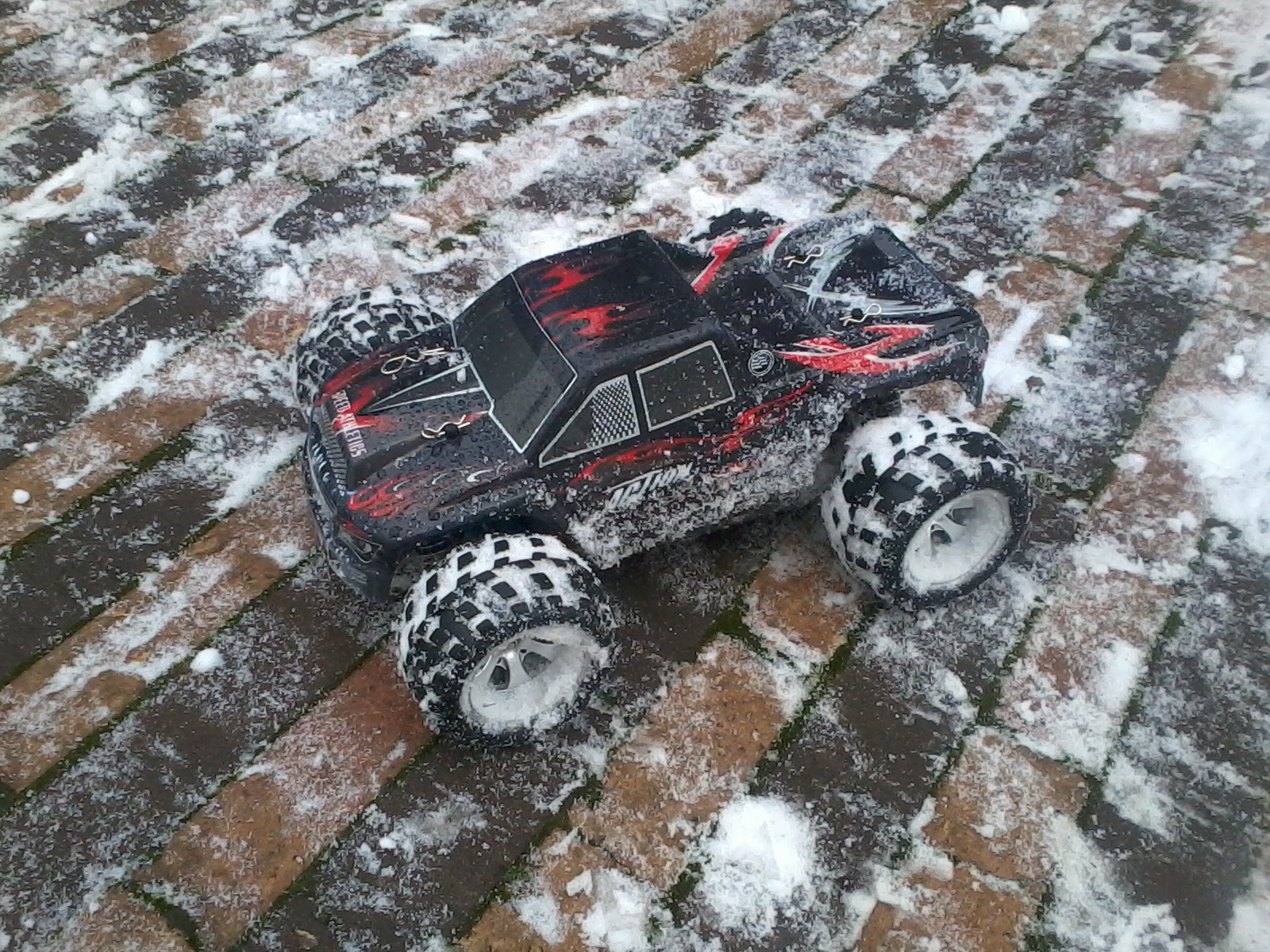 The next part that we had to order was the suspension. After some hard hit the cup from the suspension was lost. This is not a general problem. The strange thing is the car has a different suspension in front and back, but the spares only have one type...

Well with the second battery we also ordered a clips for battery connectors - they help to prevent the cables to be ripped of the connector when recharging.
Withing few weeks we lost most of the R-shaped pins that hold the canopy. I made a replacements of office clips, but got tired soon and bought few packs of replacements. I recommend to mount them with "head down", this prevents a lot of troubles.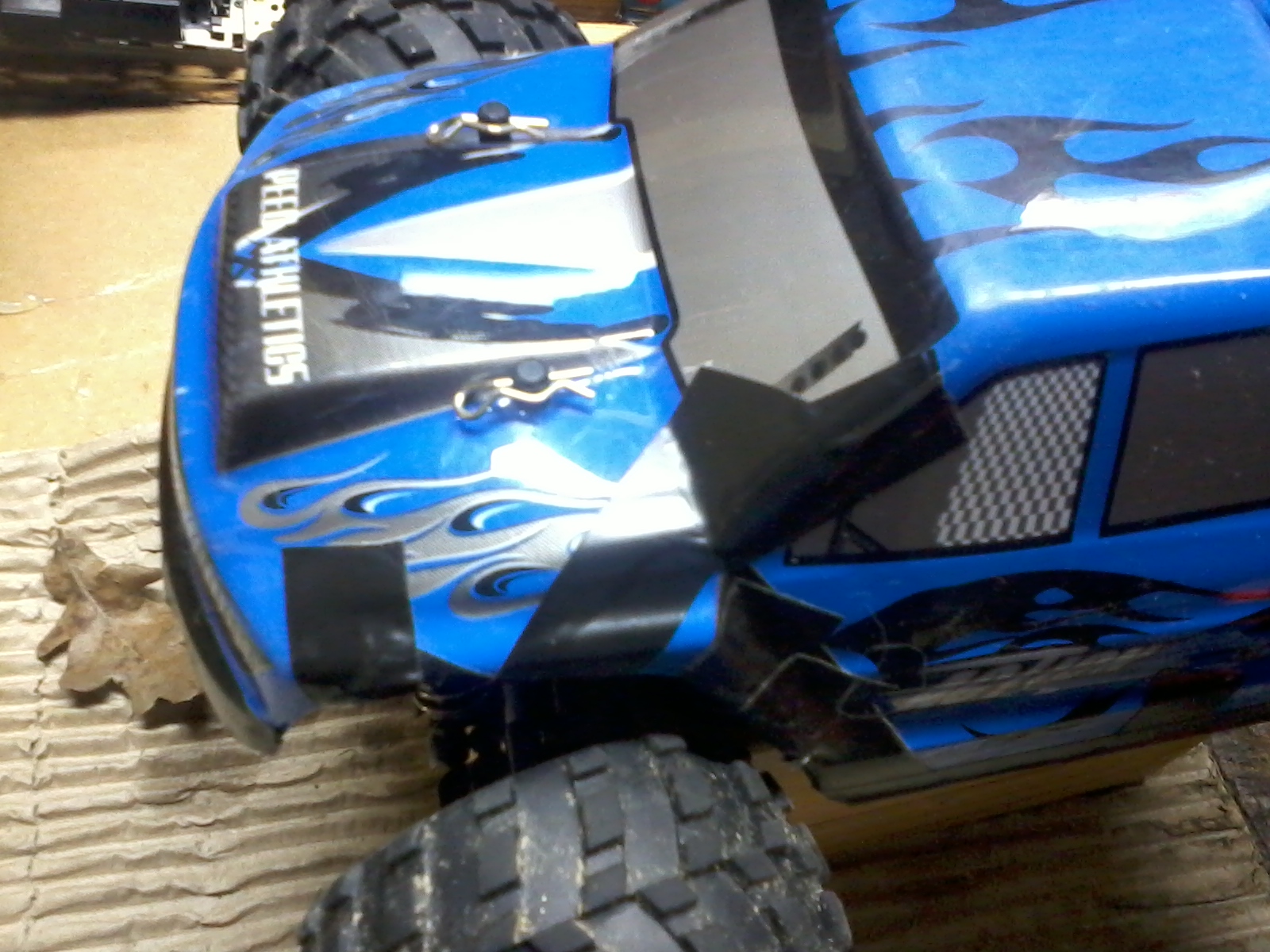 Nevertheless as soon as kids get to the car, everything is in danger. This car is really fast. Once we were driving them outside and hit the leg in full speed. The canopy get broken a lot, glued with tape, but had to order a new one, but the worst thing was the steering get broken bone. We had to order "steering cylinder mounting block". (Not broken on the picture.)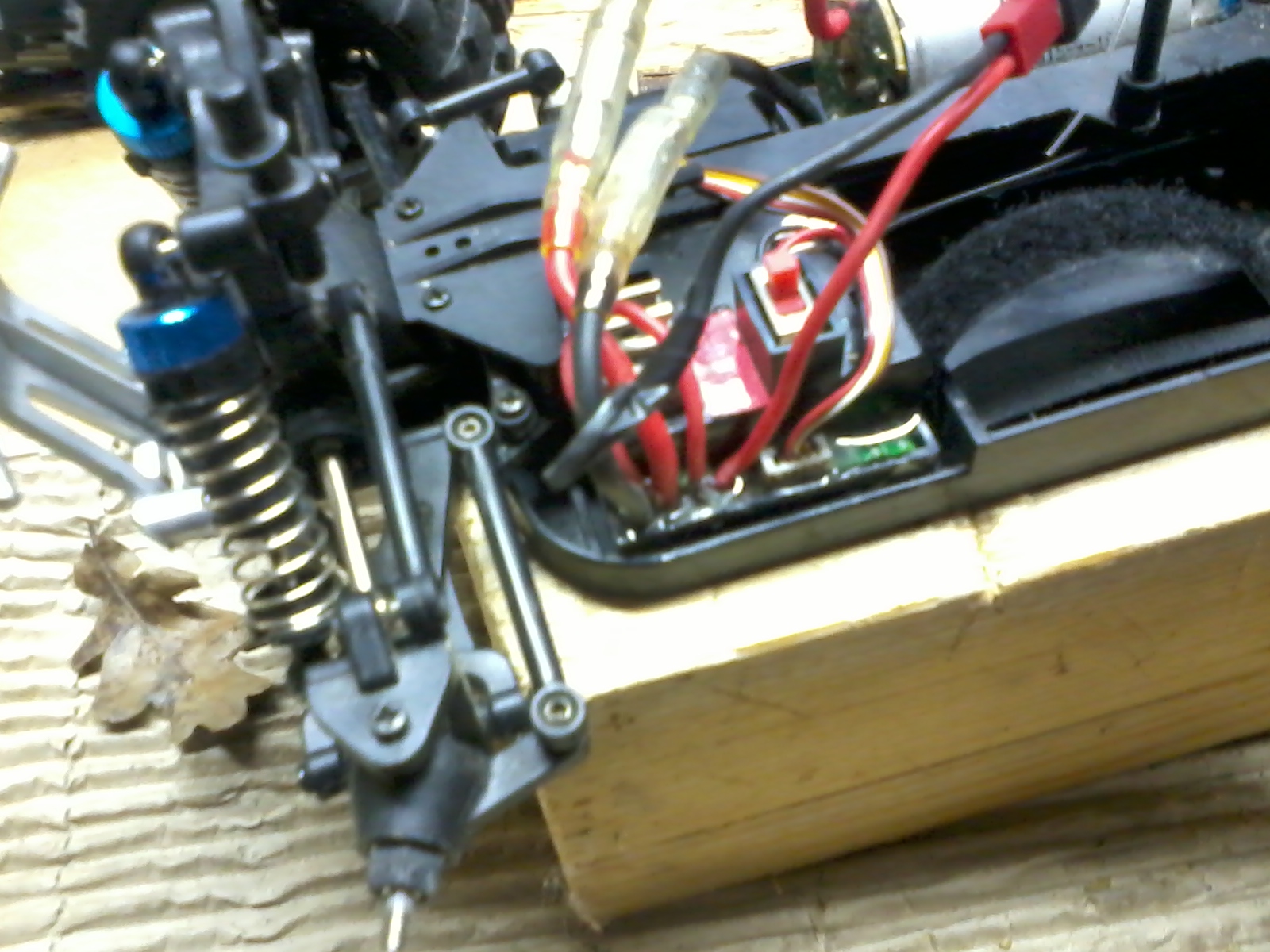 Next thing that made us out of order was a motor. After 5 month of daily use the 390 motor burned. In the meantime we got a second car.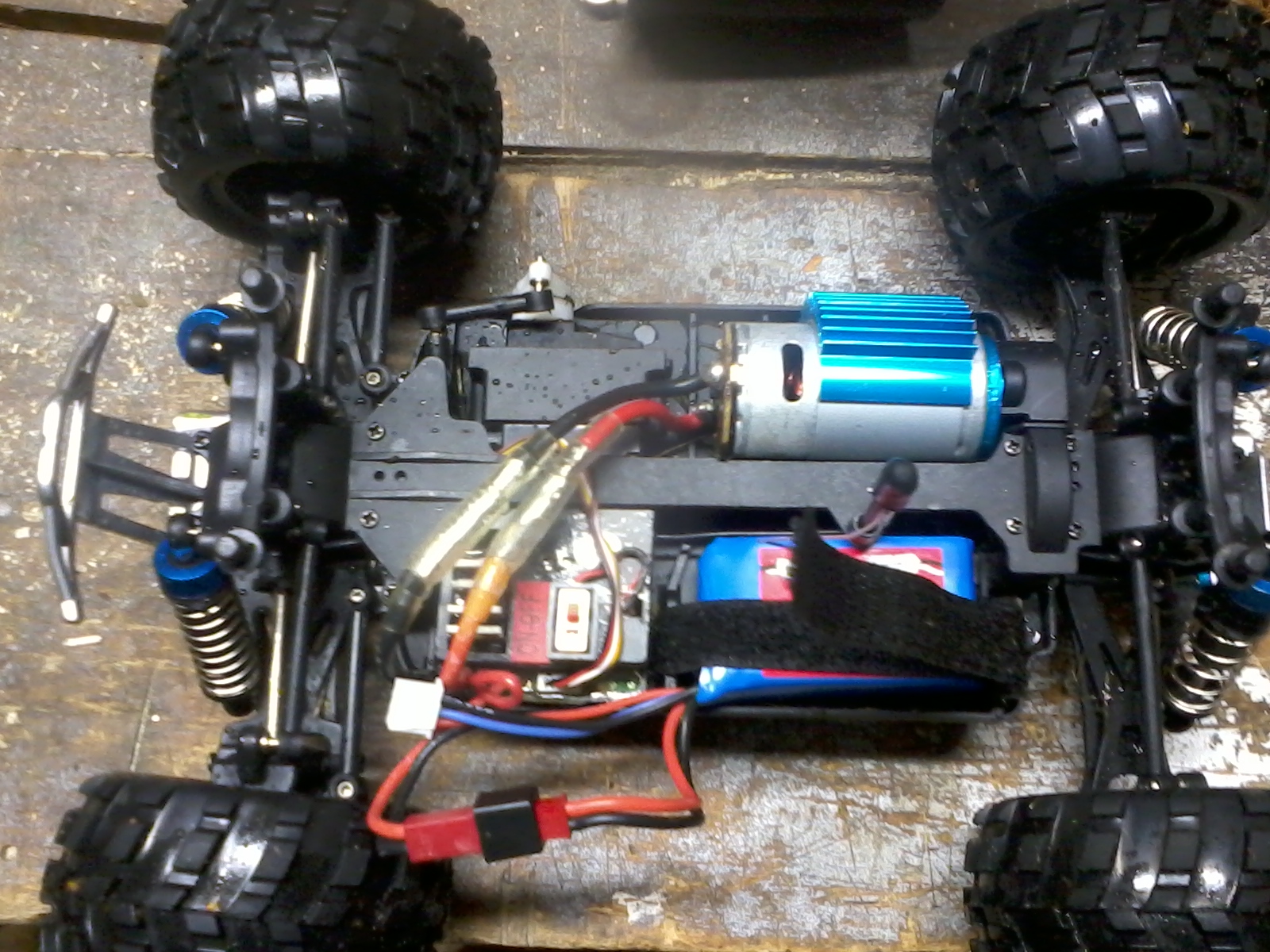 After few weeks it start to behave strange. I found the wire to the battery broke right at the electronic speed control unit where it is cast into the plastic. With a bit of luck I was able to solder it there and "improve" it with a plastic glue. I found the wires on the battery get also weared out at the place they leave the battery package, so I fixed them with plastic glue too.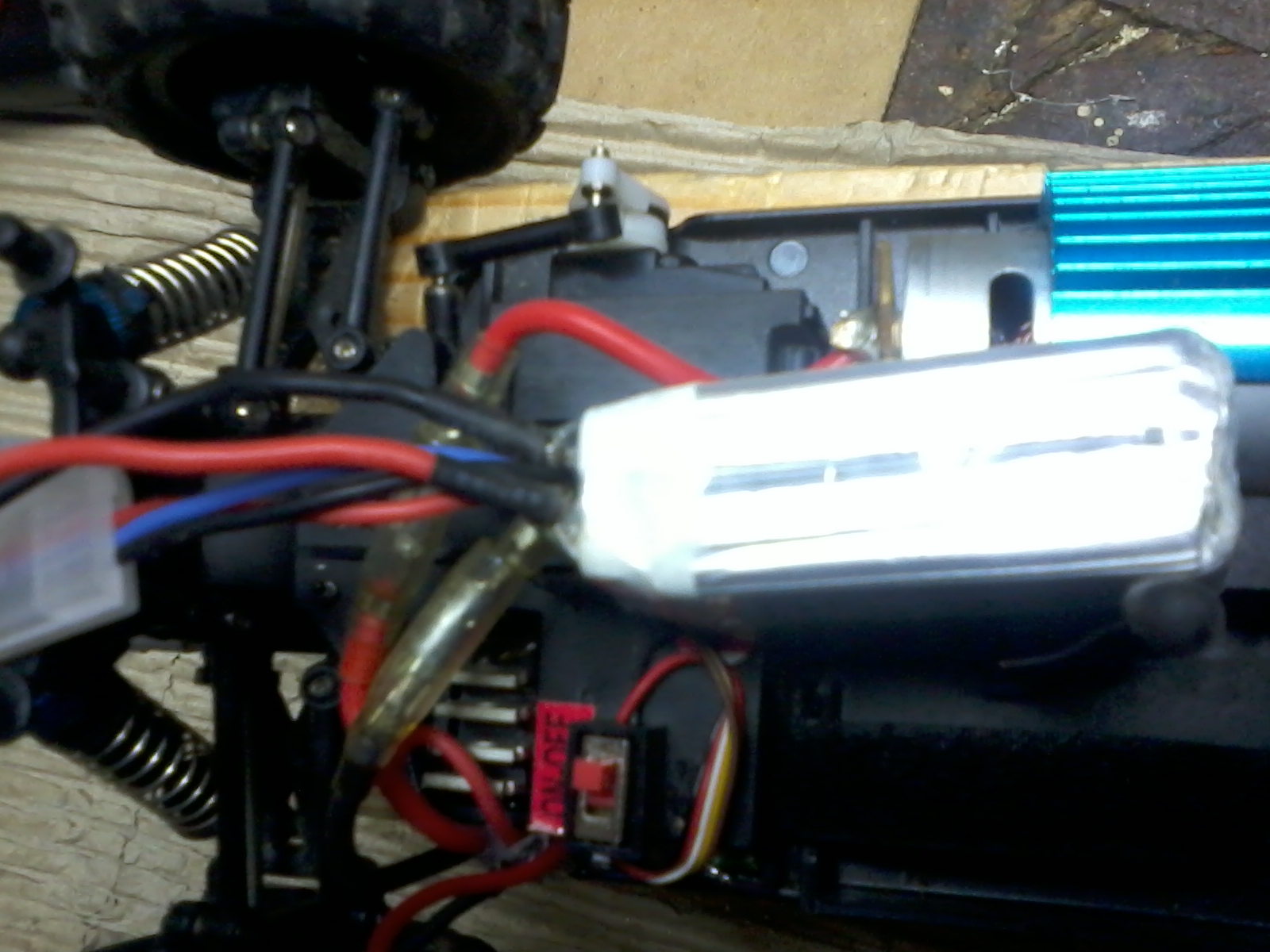 The car has simple, yet cheap charger, that stops charging when battery is full. This is fine, but the connector is hard to push/pull, that is why we bought clips. Then one of the chargers suddenly started to flash the red light and is useless now.

Fine.. now once I came home and one of the cars had stripped both differrentials. I was not able to find out what happened. I was hoping this is reduction gear, but nope. The inside diff wheels are stripped...
You can find very long and somethimes valuable discussion at RC groups.
I found, there are basic spare parts at dealextreme with 24h delivery - well this means we ship it in 24h from China... make sure they fit A979.
Differentials are changed, but one of the back wheels got a hard hit and one of the seats broke. Attemps to glue it with UHU Hartplastic - no way, then tried Wurth Klebfix - much bettery, but still brakes again. We lost one of the transmission shatfs. Bad.
Battery is 2S 7.4V 25C LiPol something like 60x30x20mm (height can be more) with JST-XH charging connector (for 2S this is battery pack plus, minus and "middle", i.e. you can measure every Slice separately) original capacity 1100mAh.
The batteries are overall pain - the car stops to run when battery reaches the low limit for LiPol batteries, but if it is not switched off then transmitter can deplete the battery completely to the degree it is not possible to charge again. The battey connectors that transfer main current to the car is underpowered. On both cars they get damaged by heat generated on contact resistance to the point they get bonded. This is not good.
Wheels on the left side of the car are getting loose (obviously left winding). Bit worse thing is they get incredibely loose axles, it is hard to drive straight.
The last thing that broke was electronic regulator. It burned, ruining one cell in the battery and making owful smoke efects.
Summary
After all the good and bad here is a few of my thoughts
Most sensitive part of the car is the plastic diferential - the wheels [3] get scraped often, also the holders for axes get brushed (differential cup [5]).
Batteries and connectors are terrible - the pins do not withstand the current and solder together. The quality of "aftermarket" batteries is very bad, they often tend to fail (usually only one cell becomes bad).
390 motors stops to work often. They probably get burned... I was surprised how the metal motor gear is worn after some time [1]. Even the plastic reduction gear [2] seems to last longer! This is probably due to sand getting into the "motor dustproof seat".
Wheel discs often broke, this is also caused by "empty" tires. At the same level is the main shaft - especialy the gear at the end that goes to differential [4].
Bearings on the wheel axles get loose [6], but this is not fatal, just the car is harder to drive and is slower too.
Electronics, especialy wires are weak and tend to broke as they are manipulated often when battery is removed. Charges are really cheap and do broke too.
A lot of those things addresses the WLtoys Vortex A979B, but the differentials are still plastic there. This I consider the worst problem anyway.
The END