29.12.2011 21:01
Acer C20 tripod screw
Acer is triing to make a fool of us. They sell the C20 pico projector with a tripod windings with completely non standard trhead. While normal tripod screws have Whitworth 1/4" (diameter 6.4mm, teeth to teeth 1.27mm, angle 55 degree) what is on the C20 is something like M6x1.25 (diameter 6mm, teeth to teeth 1.25mm, angle 60 degree).
I am not sure why Acer is doing this. They sell their tripod only bundled with other parts I do not need. The tripod is useless as it is too small and when you connect a cable to projector it can not stand anymore. As the screw is not standard, you can not use normal tripods for cameras to attach a projector.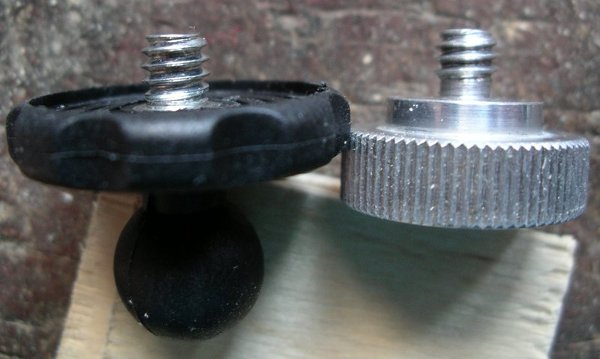 Left is Acer C20 tripod screw taken out of the tripod. Right is a normal withwort tripod screw.
Acer C20 is OEM Optoma PK201 with Acer made plastic. IMHO the PK201 is not having such a strange windings.